Scroll Percentage: 0%
Explore
Large Projects in Guinea 2021
Mitigating threats to the African manatee, Atlantic humpback dolphin and marine turtles
Guinea Conservation Facts
The west African country of Guinea is characterised by sandy beaches, vast plains and lush mangrove forests rich in endemic and endangered species. It has one of the most dynamic coastal areas in the sub-region and has a highly productive marine ecosystem. Almost 36% of its land area but less than one percent of its total coastal areas are protected. According to the IUCN Red list, Guinea is home to 346 threatened species.
Large Projects in Guinea
Three large projects are in progress in Guinea, which are locally implemented, managed by The Mohamed bin Zayed Species Conservation Fund and sponsored by Mubadala Investment Corporation and its local asset, Guinea Alumina Corporation (GAC). Our conservation partner, African Aquatic Conservation Fund, are determining baseline data and identifying and mitigating dangers to the African manatee's survival. For the Atlantic humpback dolphin our partners are CCAHD and Biotope who are conducting systematic boat-based and interview surveys to document the species' distribution, habitat preferences, and threats. In Guinea's Tristao archipelago, Chelonee is our partner in establishing and operating a field station that will facilitate nest site monitoring, field surveys, genetic analysis and habitat monitoring of marine turtles.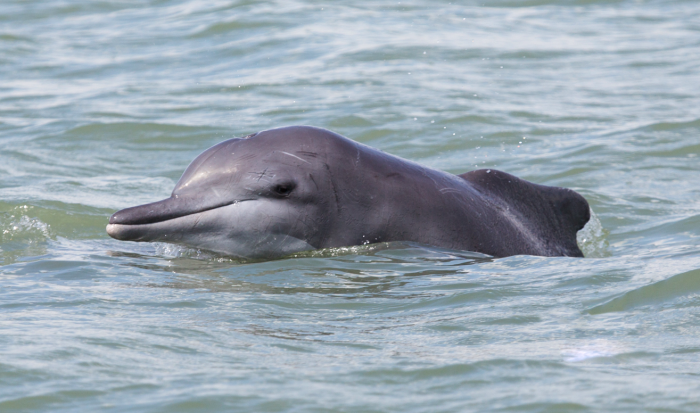 Guinea Project Management Partners
The Fund manages the projects in cooperation with our local partners. We work with the African Aquatic Conservation Fund as our partner in conserving threatened African manatee along the coastal areas and interior rivers of Guinea. Established in 2014, they are dedicated to the preservation of African manatees, turtles, cetaceans, and other aquatic wildlife and their habitats throughout the African continent. The Consortium for the Conservation of the Atlantic Humpback Dolphin (CCAHD) and Biotope are our partners in the research and conservation of the Atlantic humpback dolphin. CCAHD was established in 2020 and is working towards the long-term sustainability of Sousa teuszii populations and their habitats through research, awareness, capacity-building and action. Biotope Guinea supports the development project, from design to exploitation, applying consultation methods and resolving all regulatory obstacles related to environmental standards. Sea Turtles Chelonee is our partner in creating a community conservation for marine turtles on Katrack Island. Established in 2016 it is a scientific association studying and conserving sea turtles and their habitats in the French territories and Africa.
All three projects are supported by Mubadala Investment Corporation and its in-country asset, Guinea Alumina Corporation (GAC), who are a subsidiary of Emirates Global Aluminium, the world's largest premium aluminium producer.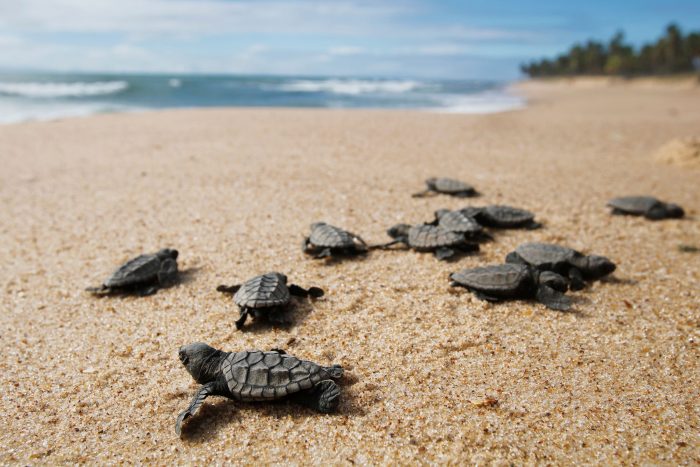 The African Manatee
Project One: Protecting Guinea's gentle giants
Little is known about Guinea's African manatees, who live along the coast and deep into the interior of Guinea's Niger and Gambia rivers.
This is the first dedicated research and conservation project in Guinea to focus on African manatee. The project will train Guinean researchers in African manatee research and conservation techniques, while also conducting a threat assessment of all manatee habitat use areas of the country. Biological samples will be collected opportunistically and analysed to provide the first information about manatee population genetics, feeding ecology and habitat use in Guinea. Threat assessment results will be shared with wildlife law enforcement and we are also working with them to encourage their enforcement of laws to protect the species. Education programs as well as TV, radio, newspaper and other media announcements will raise awareness of the need to protect the manatee.
Photos submitted by The African Aquatic Conservation Fund
Progress in 2021 and next steps
Given that there has been no prior study or conservation efforts for African manatees in Guinea, nothing is therefore known about the status of the population(s), extent of threats, or remaining suitable habitat. Accordingly, the first step was to obtain the necessary scientific research permit through the Ministry of the Environment. Our partners have also acquired two hectares of land to establish a research station. Equipment has been purchased for capacity building of 15 Guinean biologists, including depth sounders and thermometers, salinity refractometers, necropsy knives, waterproof field notebooks and raingear, a digital camera, zoom lens and other accessories for the manatee research.
In 2022 the recruitment of trainees and the three-week long training in manatee research and conservation techniques will begin, including both classroom lectures as well as practical experience collecting data and interviewing local inhabitants near manatee sites. The first manatee surveys of the coastal region and Gambia River watershed will also be conducted. The construction of the research station will facilitate the research into identifying range, collecting biological samples for DNA analysis, counting population numbers and identifying and mitigating threats.
It's been a great month. I'm now back in Conakry after a very successful few weeks traveling the entire littoral region of Guinea from Kamsar to Benty. We got lots of good information about manatees and their threats from our interviews, we had one manatee sighting and two sightings of Humpback dolphins.
Dr Lucy Keith-Diagne, principle investigator for the manatee and dolphin projects in Guinea
Guinea's Atlantic Humpback Dolphin
Project Two: Conserving this critically endangered aquatic mammal
The Atlantic humpback dolphin lives in shallow nearshore waters along the Atlantic coast of Africa.
Confirmed records of the species are available in only 13 of the 19 countries within the species' range, including Guinea. While in many countries, records are limited to only a handful of reported strandings or opportunistic sightings, surveys conducted by international and Guinean scientists in 2012, 2015, and 2017 indicate that there is at least one population present along Guinea's northern coastline, with a minimum of 47 individual dolphins identified. The species is designated as Critically Endangered on the IUCN Red List. The main threat to the species is accidental catch in fishing nets and other gear.
This project will assess the distribution, habitat preferences, and abundance of Atlantic humpback dolphin in Guinea. Noting its key habitats, threats to the species will be carefully documented and we will work with Guinean stakeholders to develop recommendations to minimize these. Once more is known about the status of Atlantic humpback dolphin in this area, efforts will be made to collaborate with local communities to conserve it for its long-term future.
Photos submitted by the The Consortium for the Conservation of the Atlantic Humpback Dolphin (CCAHD)
Progress in 2021 and next steps
This is a multiple-year and multi-stakeholder commitment; therefore, the preparation and set-up phase are a crucial step in establishing a successful outcome for the project. Local partners have planned for its different aspects including logistics, permit authorization, surveys implementation, capacity building and communication ready for its start date of 1 January 2022. A qualified team has been recruited and all the material required for the first boat surveys have been purchased.
The first boat-based survey will take place in mid-2022 with a recently developed protocol for surveys which will include a built-in element of training and capacity building for range country scientists. These protocols will allow for data collected to be compared with earlier surveys conducted in the region as well as contemporary or future surveys conducted in Guinea or other AHD range countries.
The team has been built, the equipment purchased and we are now ready to start our first boat-based surveys in mid-2022
Marine turtles and their habitat
Project Three: Community conservation in Guinea's Tristao archipelago
One hundred miles from Conakry, the capital of Guinea, lies the island archipelago of Tristao where endangered marine turtles and communities share a fragile marine protected area.
Within the archipelago, on the island of Katrack, is a 20 km long sandy beach where Hawksbill, Green and Olive Ridley marine turtles come ashore to nest in this global turtle hotspot. This project will work with the local communities to protect the nests, prevent poaching, reduce habitat degradation, conduct DNA analysis and ensure this valuable population of endangered sea turtles continue to thrive. Community engagement includes the support of a local school and a dispensary. To shepherd this project, a doctoral student will be studying the impact of community engaged conservation on nesting and foraging marine turtles.
Photos submitted by Sea Turtles Chelonee
Progress in 2021 and next steps
A workshop was held in Guinea-Bissau with the primary objective of bringing together specialists in the field of marine turtles' conservation, research and monitory from all over West Africa, from Mauritania to Sierra Leone. Technical and scientific information relevant to the region was shared and a review of techniques used for monitoring and practical conservation actions assessed. Land has been acquired on the Tristao islands for a research station where a doctoral student will begin her sea turtle research project. Additionally, during the field trip, the team erected a sea turtle protection area and relocated nine nests to keep them safe from poachers.
Construction of the field station on Katrack Island will commence in 2022. Expeditions to the surrounding islands are planned with the objective of establishing numerous small projects to monitor marine turtles and to identify and protect their nesting sites. Wildlife surveys of the Tristao Islands will be initiated with rangers from the Tristao-Alcatraz Marine Protected Area in order to identify wildlife conservation priorities and then to carry out training on the management of protected areas.
The president of the district donated a coastal field of 2 hectres, according to the traditional manner, to the association Chélonée for its research station. A field visit was done. With a cashew plantation occupying part of the land, the owner asked if he should cut them down. Our team gave a negative answer, because they did not constitute a problem. The rectangular field measures 2 ha and is on the edge of the sea. The team recorded GPS points on the four corners of the field, … to draw a perimeter on satellite pictures from Google Earth.
Jacques Fretey, expert Herpetologist and head of the marine turtle conservation project