Scroll Percentage: 0%
Explore
Large Projects in Colombia 2021
From forests to rivers: Finding some of Colombia's most endangered species
Colombia Conservation Facts
Colombia's environment encompasses a rich complexity of ecological, climatic, biological and ecosystem components. The forested slopes of the Andes support incredible biodiversity and are important not only for the country's natural heritage but also in preserving some of the world's unique species. According to the IUCN Red list, Colombia is home to 1,022 threatened species. Approximately 17% of its land and coastal areas are protected.
Large Projects in Colombia
Three large projects are happening in Colombia which are locally implemented, managed by The Mohamed bin Zayed Species Conservation Fund and sponsored by Mubadala Investment Corporation and its local asset, Minesa. All three are in Santander where we are establishing new protected areas and restoring habitat for the rare Mountain Grackle and for Colombia's native oak forests, which have been declining as a result of timber exploitation. A ground-breaking project to save Lynch's Colombian Treefrog has been developed and will be achieved through rapid survey techniques at 40 different locations across the species range, including nocturnal searches, live pitfall traps and other standard techniques used to search for amphibians.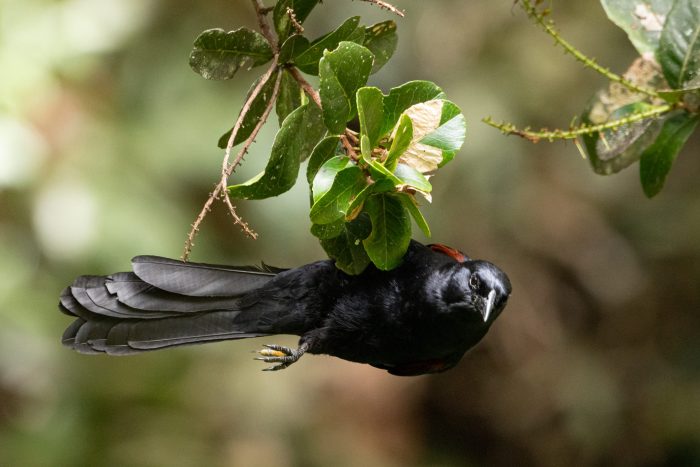 THREE PROJECTS UNDER MANAGEMENT IN COLOMBIA
All three projects are supported by Mubadala Investment Corporation and its in-country asset, Minesa who, through their Soto Norte project, are working together with the community and local authorities to generate common projects that improve the quality of life of the inhabitants in the territory.
Lynch's Treefrog
Project One: Finding and protecting this elusive treefrog
Once common, Lynch's Treefrog (Hyloscirtus lynchi) has not been recorded since 2010; consequently, very little is known about the species.
To save this treefrog from extinction, our local partners are implementing an innovative project, starting with comprehensive research to gather necessary biological data about the species, including the abundance of population densities at key sites. This information will be analysed and presented to stakeholders and experts, who will collaborate to develop a conservation action plan for the species. In addition to establishing new protected areas and restoring habitat, the launch of an educational campaign will raise awareness of the treefrog among the community within the species' range. Our aim is to reverse its population trend from decreasing to increasing, so that its Red List status can be downgraded from Critically Endangered.
Photos submitted from field reports.
Progress in 2021 and next steps
During 2021 eight expeditions were carried out starting in the Andean Humid Forest, where the last known sighting of the Lynch's Colombian Treefrog occurred. These studies documented 39 species of amphibians, of which 14 were in important threat categories (EN, VU, DD) and 18 endemic to the Eastern Cordillera of Colombia. Three of the species currently registered are indeterminate, requiring a more exhaustive review to establish their identity. None of the species recorded was the elusive Lynch's Treefrog.
Both day and night-time expeditions will continue each month in 2022, throughout the different municipalities of Colombia to the 40 sites identified as possible locations for the Hyloscirtus lynchi. The conservation action plan will be created, following completion of the expeditions and based on the review of the research data, to establish population status and priority areas for conservation. Findings will be presented at a Threatened Species of Santander conference later in the year.
Colombian Mountain grackle
Project Two: Saving this rare grackle from extinction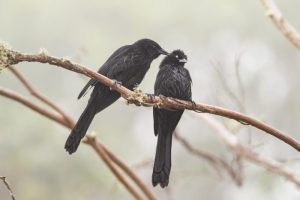 Listen to the Mountain grackle's song
This project aims to save this rare grackle from extinction by collecting biological data using transects and opportunistic observation together with mist net studies.
The Oak forests upon which this grackle depends are declining due to logging, mining and conversion of forests to farmlands. By expanding the protected areas where this species live, the project will support the recovery of this bird and its habitat. In addition, we are launching an educational campaign to raise awareness about the grackle through the conversion of a school bus into a traveling classroom. The desired outcome of this multi-faceted project is to reverse the grackle's population trend from decreasing to increasing, so that its Red List status can be downgraded from Endangered.
Progress in 2021 and next steps
Eight expeditions took place in 2021 throughout more than 100 linear kilometers of transects. During these trips, which took place between September and December, 192 species of birds were sighted and photographed, many of them categorized as threatened. In total 144 Colombian Mountain Grackle (Macroagelaius subalaris) were observed, at three of the eight sites, flying, foraging and nesting, some within just metres from our ornithologists.
In 2022, a further 32 expeditions will be carried out to cover the full territory identified as potential locations for where the Macroagelaius subalaris species may be found. A review of the research data to establish population status and priority areas for conservation will be shared at a round table discussion with national experts and will form the basis of the Conservation Action Plan for the species.
144 Colombian Mountain grackle sighted so far and a further 32 expeditions planned
Colombian Oak
Project Three: Expanding the oak tree's protected area and ensuring increased population
Colombia's oak forests have been declining due to timber exploitation.
This is particularly alarming as many rare endemic species, including the Indigo-winged Parrot (CR), Colombian Mountain Grackle (EN), and Rusty-faced Parrot (VU) depend on Andean oak forests for their survival. Biological data will be gathered across Santander through transect and study plots and the use of drones for aerial surveys to locate individual oak trees over a wider area. An educational campaign will be launched to promote awareness of the Colombian oak (Quercus humboldtii) amongst the local community. This project seeks to expand the oak tree's protected area and ensure population growth, so that it can continue supporting wildlife communities that benefit from these trees.
Progress in 2021 and next steps
In summary eight field trips were performed in 2021 at various sampling sites within the range of 1,600 and 2,930 metres above sea level. An important discovery was made in locating Quercus humboldtii, reproductive and adult individuals, in the municipalities of Zapatoca and San Vicente de Chucuri which had not historically been recorded as locations of the species in the department of Santander.
During 2022 intense communication efforts to raise awareness at the local, regional and national level about the plight of the species will be directed through social media and learning material including flyers and posters. An educational bus will be secured and prepared as a mobile classroom which will operate 15 days a month in schools and communities within Santander. It will also be used for environmental sustainability workshops by Women for Conservation to highlight the importance of the species.
Important new location for Colombian oak discovered and social media activities planned to raise local, regional and national awareness of the oak's plight