Click here to view our full 2025 Annual Report
The Marvel of The Marbled Cat
Marbled cat (Pardofelis marmorata)
Famed for its beauty, mystery and rarity, the Marbled cat (Pardofelis marmorata) is often compared to its close relative the Clouded leopard. The pattern of clouded patches on its fur resembles marble and what lends it its name. It is a very agile cat, climbing down trees head first, and using its relatively short and powerful tail to balance while jumping from branch to branch. The Marbled cat is primarily associated with moist and deciduous evergreen tropical secondary forests, although they have been seen in the snowy forests of Sikkim.
They are generally populated around southern Asian countries, and there are thought to be about 10,000 individuals, although their natural rarity and reclusive nature makes accurate estimates hard to calculate.
With a grant amount of almost $5,000 from the MBZ Fund, project leader Giridhar Malla of the Clouded Leopard Working Group conducted surveys over two protected areas in the state of Arunachal Pradesh in northeast India.
Occupancy surveys were conducted to assess distribution and camera traps were utilized to estimate the population. The team also traveled extensively to remote villages where awareness and training programs for forest staff, villagers and school children were delivered.
Habitat destruction and indiscriminate large scale snaring are rampant throughout much of this area. The Marbled cat is also hunted for its fur, meat and bones, and dead cats are used in ceremonies during festivals, sacrificed to a deity for the goodwill of the family.
The grant also leveraged an additional $3,500 from the Small Cat Conservation Network for human-Marbled cats conflict management in East Kameng district.
Due to onset of Covid-19 outbreak much of the fieldwork was delayed due to restrictions on entering Arunachal Pradesh.
Project lead by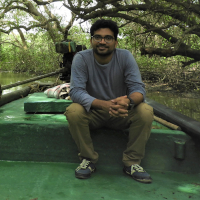 Clouded Leopard Working Group