Click here to view our full 2020 Annual Report
Stepping Back to Safety
Conservation of the Steppe Eagle breeding population in the Altai-Sayan Ecoregion, Russia.
Steppe Eagle (Aquila nipalensis)
Regal and majestic, the Steppe eagle (Aquila nipalensis) soars in the mountains of the great Himalayas and migrates from Siberia to India, Pakistan, Iran, the Arabian Peninsula and Africa, living a very adventurous life. The Steppe eagle is also the national bird of Egypt and also appears on the national flag of Kazakhstan.
The biggest threats to the species remain urbanization, industrialization, and conversion of steppe regions into agricultural fields, pollution, and electrocution from poorly designed electric transmission lines.
In the western part of Russia, Steppe eagle population numbers have fallen by 92% and there is probably an overestimation of Steppe eagle numbers outside of Russia.
Having been awarded a grant of $5,000 from the MBZ Fund, project leader Igor Karyakin of the Russian Raptor Research and Conservation Network (RRRCN) conducted fieldwork in the Altai-Sayan Ecoregion (ASER), southern Siberia.
This was done during the breeding season, with population surveys carried out and allocation areas for nesting platforms identified. The research was conducted in an area with one of the most stable populations of the steppe eagle in the world.
The Altai-Sayan region retains the largest population of Steppe eagles in Russia but the largest population globally is in Western Kazakhstan, but this is also where their numbers are more rapidly declining.
Sixty-two nesting sites were examined, and on 30 nests, coloured rings were attached to the chicks. On three nests, chicks were tagged with GPS/GSM dataloggers. An inventory of power lines dangerous for birds was carried out, more than 30 were identified for devices meant to stop bird electrocution and more than half of them are now equipped with bird protection devices.
The grant from the MBZ Fund helped raise small funding from WWF supporters to build additional platforms for steppe eagles. It is hoped that this will mark the beginning of important strides for the Steppe eagle to reach safety in numbers.
Project lead by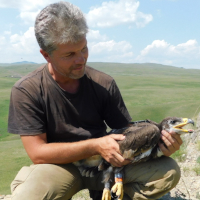 Russian Raptor Research and Conservation Network (RRRCN)