Click here to view our full 2025 Annual Report
Revealing The Masked Toad
Intermediate puddle toad (Phrynobatrachus intermedius)
The Intermediate puddle frog (Phrynobatrachus intermedius) possesses a very distinct dark brown 'face mask', which makes it look like it's wearing a Zorro mask. Their only known existing habitat is in the 500 km2 Ankasa National Park, located in the coastal region of Ghana. Since the discovery of two adult females and a juvenile in 2001, the masked Intermediate puddle frog has not been seen again. They are typically located within the swamps of primary rainforest and breed in temporary water bodies such as puddles, where they lay many small eggs to form a clutch.
The Raffia palm trees in the park, which grow in swampy conditions, are harvested for their sap, which is fermented to produce wine and spirits. Unlike oil palms, harvesting the sap from the Raffia palm kills the tree. The habitat for the puddle toad is therefore also adversely affected.
Save The Frogs! Ghana (STF!G) https://savethefrogs.com/ghana/ and its co-founder, Gilbert Adum, have made expeditious use of the $25,000 grant from Fund. STF!G has searched for an entire year to rediscover the species. STF!G is also collaborating with the local forestry commission to plant 10,000 Raffia palm trees on local farms. The aim is to reduce pressure on wild farming, as well as to educate an estimated 20,000 local people on the need to protect the Intermediate puddle frog.
Mr Adum also strongly believes that educating palm wine tappers to adopt more sustainable practises will also benefit non-amphibian species like the Forest elephant and the White breasted guinea fowl. So far, 10,000 native seedlings of raffia palm have been raised to restore degraded swamp habitats within and around Ankasa.
The grant from the Fund has created a great platform to attract other funding, including €20,000 from the Prince Bernhard Fund for Nature. These grants offered great support to avert the extinction of the Intermediate puddle frog and sustain the team during the pandemic to continue their essential conservation work.
Project lead by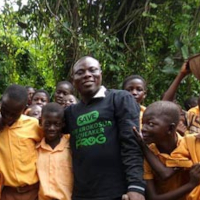 Save Ghana Frogs