Click here to view our full 2021 Annual Report
Not Caving into Extinction
Protecting the rarest spider in the world and the unique animals with which it shares its home.
Batu Cave Trapdoor Spider (Liphistius Batuensis)
The Batu Caves trapdoor spider is considered the rarest spider in the world. Found within the Karst Towers of the Kuala Lumpur Limestone, just north of Malaysia's largest city Kuala Lumpur, this arachnid is said to have not evolved much over 300 million years, having retained much of its primitive anatomy, and is considered by scientists as a sort of 'living fossil', with features such as a segmented abdomen.
The species was first described by western explorers in 1923 but in the intervening years, the species occurrence has declined because of human interference, specifically, unregulated development. The hills are surrounded by various projects, of light industry, residential, commercial, and recreational land use, with the daily human impact on the caves and hills not fully understood. As a consequence, the lack of awareness causes unintentional disturbance to this very sacred habitat.
The Covid-19 pandemic has prevented progress on this project, but project leader Zarris Kem of the Malaysian Cave and Karst Conservancy still aims to help protect this rare spider. The project will survey, document and monitor the other caves within the Batu Caves massif as well as the Anak Takun Hill, which is a smaller nearby limestone outcrop that could be a potential habitat for the spider.
Because the sites are under no official protection, the aim is to push for conservation action through local stakeholders, which will also be facilitated by having the species assessed and listed under the IUCN Red List of Threatened Species. With this financial support, the natural value of the area can be highlighted, the threats better understood and targeted measures can be proposed and implemented to alleviate them. The project will also document potentially suitable habitats and allow for an aerial survey of the proximity of threats to the species' habitats. This would go a long way in understanding and preserving this rare, ancient, and endemic species within these fragile caves.
Project lead by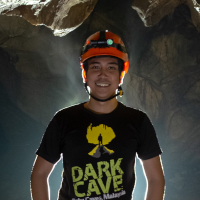 Zarris Kem
Project Manager
Malaysian Cave and Karst Conservancy