Click here to view our full 2021 Annual Report
Keeping Jocotoco in Flight
Overcoming financial constraints from COVID to rebuild unique clouds forest ecosystems of southwestern Ecuador.
El Oro Parakeet (Pyrrhura orcesi)
Grant Number:
202525612 and 212526571
A bird whose wings are clipped loses much of its existential meaning. This was the danger that faced Fundacion Jocotoco, an NGO created in 1998 to protect habitats of critical importance for the conservation of threatened and endemic bird species and other biodiversity in Ecuador. The organisation acquired land that it now manages as biological reserves, establishing a network of 16 reserves totalling 24,500 hectares.
The reserves are home to more than 1,000 species of birds, 51 of which are threatened with extinction on a global scale. It has two sites that are recognised as sites of the Alliance for Zero Extinction (AZE), one of them being the Buenaventura Reserve in the southwest region of Ecuador, home of the Endangered El Oro Parakeet.
Wendy Willis, the project leader of the organisation, sought assistance from the MBZ Fund to offset some of the constraints brought about by the global COVID-19 pandemic. Ecotourism had collapsed which led to a financial deficit. Two grants totalling $39,460 were awarded by the Fund, which went a very long way in alleviating many of the financial issues caused by the pandemic.
The NGO was able to retain staff, who were crucial to preventing trespassing, hunting and logging in the reserves. This issue had become more pressing during the pandemic because of the large number of people migrating from the cities to rural areas, which consequently led to an increase in extractive activities.
In addition, the grants also helped leverage further funding from the Thin Green Line Foundation, which donated $25,000, and $24,000 from the Rainforest Trust which went to covering operational costs during the pandemic. Jocotoco was even able to carry on different conservation projects that were ongoing when the pandemic began, such as the monitoring of migratory birds. Thanks to this financial assistance, Fundacion Jocotoco was able to keep soaring!
Project lead by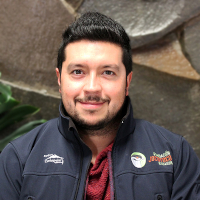 José León
Conservation and Research Projects Coordinator
Fundación Jocotoco
View public case study