Click here to view our full 2020 Annual Report
Keeping Research Island Afloat
Subsidising core operational costs for long-term species conservation objectives, invasive species management and novel environmental education initiatives on Utila
Utila Spiny-tailed Iguana and Bica Anole (Ctenosaura bakeri and Anolis bicaorum)
Grant Number:
202525344 and 212526539
An island is usually the first land mass to be affected by a tidal wave. When that tidal wave is a global pandemic and the island is Utila Island, Honduras, the problem is exacerbated. Because Utila is home to a few Critically Endangered species, most notably the Utila Spiny-tailed Iguana and the Bica Anole, two reptiles that Tom Brown of Kanahau Utila is especially worried about.
Kanahau Utila is part of Kanahau Wildlife Conservation, a newly registered NGO in Honduras. It is a non-profit network of environmentalists focused on biodiversity research and conservation. Its goal is to research the terrestrial biodiversity of Utila Island, cataloguing species occurrence as well as assessing population status and promoting the conservation of threatened species and ecosystems.
The COVID-19 pandemic threatened the continuation of the study of the two above named species, as well as the bureaucratic organisational structure of the NGO owing to a loss of tourism revenue as a result of necessitated government restrictions.
Pandemic-related travel restrictions crushed the ecotourism revenue model on which this conservation work was based. The Bica anole and Utila Spiny-tailed iguana are both listed as Critically Endangered on the IUCN Red List and the threats to these species were first defined thanks largely to past MBZ funded studies.
With two Covid Relief Grants totalling US$31,685 from the MBZ rent for their building was paid, as well as basic work and living amenities, cleaning supplies and food for staff and local interns. Travel costs on the island were also able to be met, including one boat trip per month to survey and monitor sites in remote areas.
Crucially, the MBZ Covid Relief Grants also helped to leverage additional $7,700 in funding from two other organisations. As a result, this tidal wave of support is, ironically, keeping this new NGO afloat while they navigate the Tsunami that is the pandemic.
Project lead by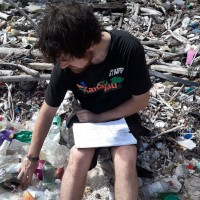 Tom Brown
President and Research Director
Kanahau Wildlife Conservation Organization NGO
View public case study