Click here to return to 2020 Annual Report
The Sea Star Slowly Fading
Conservation status of the micro-endemic echinoderm species inhabiting a subterranean estuary in Cozumel, Mexico
Cozumel's cave sea star (Copidaster cavernicola)
Cozumel's cave sea stars (Copidaster cavernicola) are found in underground estuaries formed by dissolving limestone formations.
Sinkholes provide the only access to these subterranean estuaries, and only a small fraction of this huge ecosystem is physically accessible through an underwater cave system. Access to these caves requires specialized technical cave diving training and experience, and as a consequence, there is limited knowledge of distribution, population size as well as the threat levels of the endemic fauna.
With a grant of $4950, project manager Fernando Calderon Gutierrez lead a study that focused on five sinkholes or 'cenotes' in local vernacular, that provide access to almost 28 km of underwater passages with depths of 55 m. None of the five 'cenotes' are classified as protected despite threats of pollution and infrastructure built above the cave system, such as a main road, a commercial shopping mall and a small craft centre at the entrance to the cave.
Only four sea stars were counted during all the fieldwork, suggesting that it's one of the most endangered species, not only in Mexico but in the world.
Technical diving activities were suspended at the university for one year because of COVID-19. The ban on international travel also hampered additional fieldwork necessary to conduct further studies.
The MBZ Fund grant resulted in a SeaGrant of $2,500 for the study of microbial diversity in the distribution area of Cozumel's sea star to contrast this with other areas where the target species are not present. It is hoped that such further funding will continue to see the rise of Cozumel's sea star!
Project lead by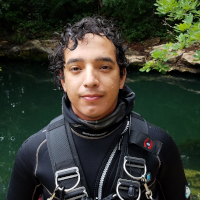 Fernando Calderon Gutierrez
Ph. D. Student
Texas A&M University
View public case study