Click here to return to 2020 Annual Report
The Guardians Starry Night over Colombia
Ensuring the conservation of the threatened Starry Night Harlequin toads (Atelopus) in the Key Biodiversity Area Sierra Nevada de Santa Marta, Colombia.
Starry Night Harlequin Toad (Atelopus arsyecue)
"Gouna" is the name the indigenous Arhuaco community of Sogrome give the sacred Starry night harlequin toad (Atelopus arsyecue) and it is fitting that we start with this community because they share its habitat. It had been thought to have been extinct for 30 years, before members of this indigenous community alerted scientists to its existence.
Found only in Colombia's Sierra Nevada de Santa Marta (one of the tallest and most remote mountain ranges on Earth), the Starry night harlequin toad is about two inches in size with a stunning coloration of shiny black skin dotted with white spots. It had been feared to have been yet another casualty of the amphibian-killing fungus chytrid until this recent notification from the people of Sogrome.
The Sogrome community has a special relationship with these amphibians: harlequin toads are considered guardians of water and symbols of fertility. For generations the Arhuaco people have listened for the toads singing as guidance on when to plant crops or perform spiritual ceremonies. They also see the species as an 'authority' on environmental conditions, an idea backed up by scientist's view of amphibians as indicators of an ecosystems health.
With a grant amount of $9,000 from the MBZ Species Conservation Fund, project leader Jose Luis Perez of Fundacion Atelopus led a team into Sierra Nevada de Santa Marta and conducted three field trips. More than 200 specimens were recorded in the transect in just 50 meters of the creek. Free walks were also conducted to assess abundance, observing about 800 individuals in only three kilometres of travel. So far, observations indicate that the population is apparently stable, though some of the threats faced are transformation and degradation of their habitat, contamination of water sources as well as the presence of the chytrid fungus, although the species seems to co-exist well with this fungus, the reasons for this though are as yet unknown.
Perhaps of greater importance is the fact that the scientific team is continuously creating a bridge of scientific and cultural exchange with the indigenous community of Sogrome, and meetings have been held with farm owners, farmers, community leaders and local associations and six voluntary conservation agreements have been signed to protect the species and its habitat.
Project lead by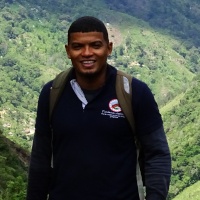 Jose Luis Perez
co-founder of Fundacion Atelopus
Fundacion Atelopus
View public case study