Click here to return to 2021 Annual Report
Search for the Northern Gastric-Brooding Frog
Search for the Gastric-brooding Frog (Rheobatrachus vitellinus)
Northern gastric brooding frog (Rheobatrachus vitellinus)
Frog populations in many parts of the world have been devastated by disease caused by the amphibian chytrid fungus. The disease thrives in cool, wet areas and infects the skin of frogs, with the end-point for many being cardiac arrest. Frog declines were severe in the rainforests of eastern Australia, where many species declined in the 1980s and 1990s; some never to be seen again.
The two 'gastric-brooding frogs' were among these apparent extinctions. Their loss was particularly tragic because they had a reproductive biology unique among the world's thousands of amphibian species — they raised their young in their stomach. The female swallowed the fertilized eggs, which contained chemicals that shut down her gastric acid production, and then the tadpoles hatched and developed in her stomach. Weeks later they emerged from her mouth, essentially being regurgitated into the world.
Both species were found in rocky streams in upland rainforest — moist, cool environments ideal for chytrid fungus disease. While the Southern Gastric-brooding frog (Rheobatrachus silus) has been searched for extensively where it occurred just north of Brisbane, the Northern Gastric-brooding frog (Rheobatrachus vitellinus) had received less attention. Remarkably, it was named in 1984 but disappeared in 1985, with no sightings since. With such a long absence, it is considered Extinct.
Dr Hoskin believed that the Northern Gastric-brooding Frog may have survived. He applied for an MBZ grant to survey the most hopeful area — a large westerly flowing catchment called Urannah Creek. The MBZ grant was used to fly two teams by helicopter to survey the mid-elevation sections of the two major arms of the creek. Each team then spent four days and three nights thoroughly surveying these areas for frogs.
Both teams found ideal Northern Gastric-brooding Frog habitat, a much better habitat than expected. They focused on small side streams coming into the main stream and found perfect areas of rocky stream habitat bordered by rainforest. However, they did not find the Northern Gastric-brooding Frog. Dr Hoskin believes that if it hasn't survived in these seemingly ideal areas alongside chytrid disease, then it is likely to be extinct.
There is one last chance for detecting this species. Both teams took water samples from the sites they surveyed, which could be screened for eDNA of the Northern Gastric-brooding Frog and offers some hope that the Northern Gastric-brooding Frog may yet be detected.
Project lead by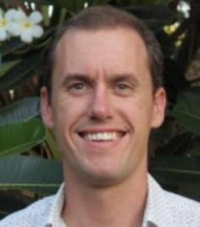 Dr. Conrad Hoskin
Senior Lecturer
College of Science & Engineering, James Cook University